Mozilla Firefox, one of the most widely used web browsers worldwide, is known for its speed, performance, and ability to provide users with a safe browsing environment. So, it would make sense if you were to shift to Mozilla from your current web browsers.
However, we all know that a browser shift is not that simple since a handful of well-loved tools may not work the same or work at all on the new web browser. And the same goes for Screen Recording tools. And if you are here, chances are you have either previously used Screen Recorders that do not work the same on Firefox or are learning about them for the first time. Either way, you have stumbled upon the right article.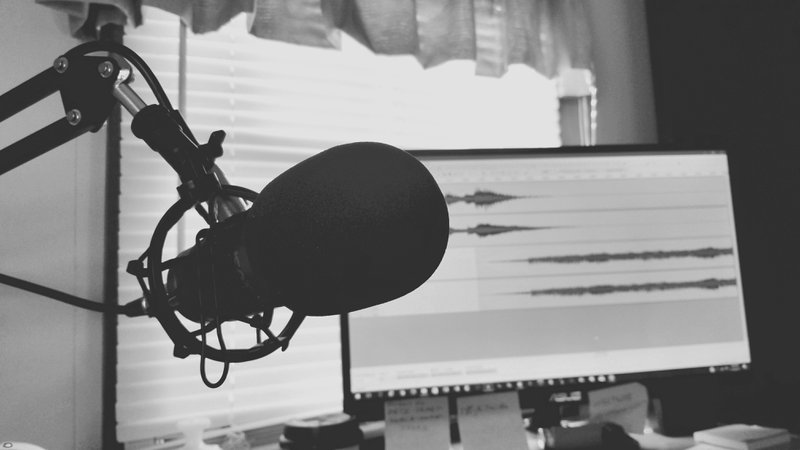 As Screen Recording tools become more and more of a necessity within the digital marketing realm, it is essential that you know which ones to opt for and how to use them. So, what is a Screen Recorder, and what is its purpose? Which ones work the best on Mozilla Firefox? And how to use them? Sit tight because we are about to run you through all the frequently asked questions so that you can make an informed decision.
So, keep on reading to learn the following aspects of Firefox Screen Recording tools,
What is a Screen Recording Tool, and Why Use it?
The Top 5 Tools to Record Firefox Screen and How to Use Them
TLDR
Videos make everything in life easier and simpler to understand. And that is why Screen Recorders are so popular these days since it allows users to create videos that get their messages across.
With every other software company coming up with their Screen Recording tools in the market, it can be daunting to determine which one would work the best on which platform.
And if you use Firefox, you ought to know which one works the best on this web browser since there is no single perfect recording tool on the market.
What is a Screen Recording Tool, and Why Use it?
As the name suggests, a Screen Recording tool is software designed to record anything and everything that gets projected on the screen. So, be it a video or a still picture, it will capture everything, including your camera and microphone.
Today, the scope of Screen Recording tools is much bigger. It is not just about recording your favorite shows, meetings, and events. It is now a tool for digital marketing and content creation that allows businesses to communicate with their consumers through the amalgamation of visual effects, that is to say, through the means of videos.
So, why are these software tools so in the rave right now? For starters, videos allow businesses to deliver their messages to consumers through a medium that is easier to comprehend. Studies show that videos retain customers' attention like no other medium of advertisement. No wonder why almost 68% of marketers believe videos increase Return On Investment.
And the scope does not just end there; you can do so much more using Screen Recorders, be it using them for tutorials, demo videos, email marketing campaigns, "how-to" videos, or anything else. That said, like every other digital marketing tool, there is no one size fits all rule when it comes to Screen Recorders because each of them comes with its perks and default features.
And with so many developers entering the market with their own products, there is one for every device or web browser. So, although some might work on your current browser or device, they might not perform the same when it comes to Firefox.
The Top 5 Tools to Record Firefox Screen and How to Use Them
VideoSends
VideoSends is one of the most versatile tools one can find to record or capture their monitor that works on a range of devices and browsers while maintaining its performance throughout each platform. In addition, this tool is known for its ability to provide its users with a platform that enables easy transition within different software to create videos that satisfy the users and appeal to customers at the same time.
As a first-hand user of VideoSends, I can only speak for myself when I say this tool ticks all the boxes for flexibility and useability. And its adaptability to a range of platforms only adds to your convenience of accessing the tool through different devices. And not just that, with VideoSends, you get to create, edit, store, share videos with your team, and keep track of the feedback and progress, all through the same platform.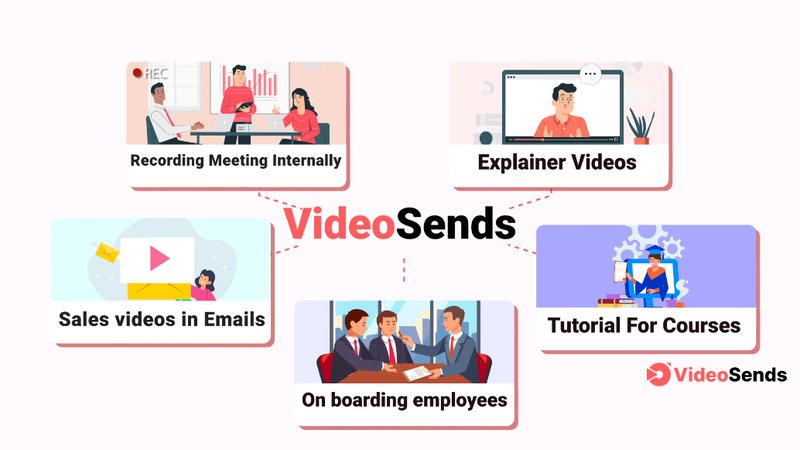 How to Use VideoSends:
To incorporate VideoSends with your firefox browser, start by opening the browser, going to their official website, and then signing up using your official or personal email account.
The sign-up process is quite simple. And since the application is mainly free to use, you would not require to add your banking information to get started with this tool.
Once you create an account, click on the Create Video button presented in the top-left corner of the website's sidebar.
You can go to the settings presented on the left side of your monitor and adjust the screen space, camera icon, microphone, and resolution.
Once you readjust the settings to your liking, you can start on click video. Now, the platform may or may not ask you to download extensions based on whether or not your browser has them already.
In case you don't, you need to download the required extensions before you start creating the video.
However, if you already have the extensions, you can jump right in and start recording your screen until you need to stop using the Stop button.
Afterward, you can even save the video, title and store it and share it with your team for further evaluation.
DemoCreator
Next on our list, we have DemoCreator, a tool that allows you to bring your visions to life with its range of built-in features. While most apps will only allow you to add a few touchups here and there, DemoCreator provides you with almost everything you might need to create professional videos.
With DemoCreator comes features like real-time screen drawing, green-screen, annotations, transitions, captions, etc. It allows you to incorporate a microphone and webcam with your screen capture in real-time and re-adjust sound features. And in any case, if you are not satisfied with the video and want to incorporate additional visual effects, this tool allows you to export your files with little to no trouble.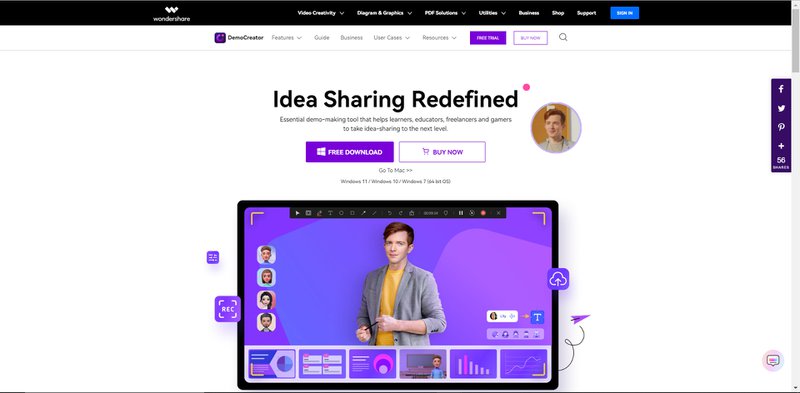 How to Use DemoCreator:
To start recording on DemoCreator, you need to first go to their website, download and install the application and set it up according to the instructions provided on the screen.
Once you install the file on your computer, sign up with your email account. Here, you will see a few packages that come with DemoCreator, which you can choose from based on your usage. So, if you are using the app for the first time and would like a trial before you sign up indefinitely, you may want to go for the monthly package and enjoy their free version first to see if this is the tool you need.
Within the application, you will find three different recording options. Example: video recording or record screen option. So, based on the type of content you want to record, click on the icons.
From here, navigate and adjust the settings. Here you need to change the resolution, the screen, microphone, and much more.
Afterward, click on the "start capturing" to record the video.
After you save the recording, edit the videos using all the features or export the video to your other tools to further edit the video.
Nimbus Screen Capture
Nimbus Screen Capture is a Firefox extension that allows you to create videos while incorporating your webcam and microphone simultaneously, making it the perfect fit for making all your "how-to" videos. With the range of features available on this extension, you have the convenience of creating and editing videos all on one platform. So be it features such as screen captures to annotations. Nimbus Screen Capture offers all of this and more.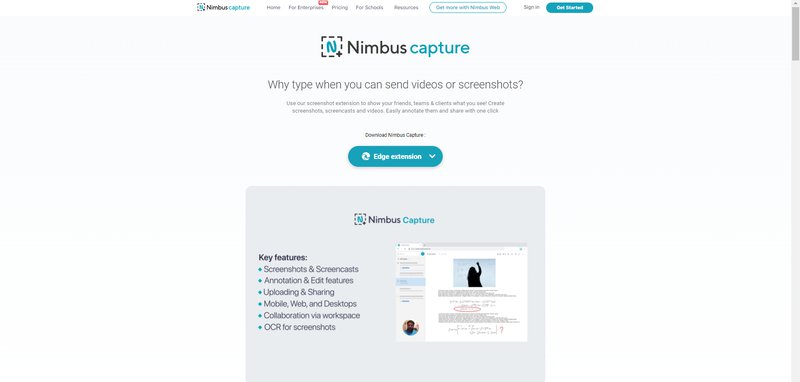 How to Record Using Nimbus Screen Capture
To get started with the platform, you need to download the extension first and then add it to the extensions of Firefox.
From there, you can open the extension to open the menu.
Afterward, tap on the "record video" and start recording your video.
Here, you will also see several saving options that will allow you to save your files the way that you want.
From there on, you can edit the video and tailor it according to your liking.
OBS Studio
Open Broadcaster Software or OBS Studio is one of the most popular when it comes to recording tools on this list. With this app, you get features like adding a microphone, and camera, readjusting the screen, etc.
The one good thing about OBS Studio is that it works on Mac, Windows, and much more. Moreover, this works offline, making it the perfect fit for you to use for working from different locations without having to worry about its compatibility.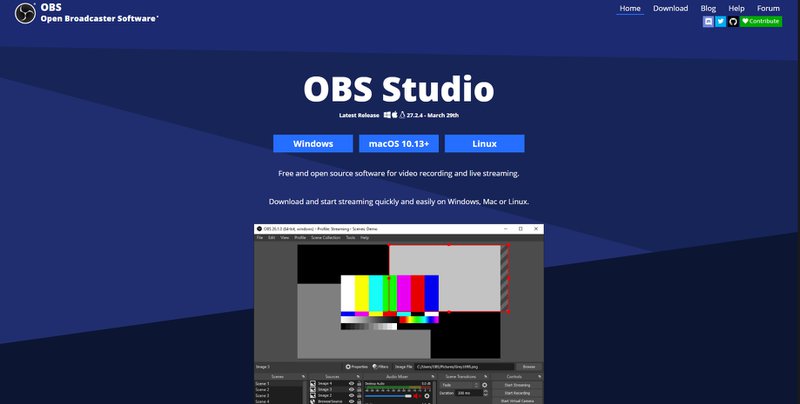 How to Record Using OBS Studio
First, download the executable file and launch the file on your device.
Now, if your device lacks runtime components, you have to allow your software to download those files to continue the installation process.
Next, once you have all the runtime components needed for the installation, launch OBS on your device.
Remember that you can skip the entire process of installing runtime components if your device already has them installed.
Once you open the app, modify all the configuration processes to your liking and needs. Here, you may adjust the settings based on whether you will use the app for streaming purposes or just for recording.
Next, in the sources section, add and modify all the features you want to incorporate. That is to say, clicking on "video capturing device" to enable the app to integrate your webcam within the recording.
Here, a default setting will show up, which you can either decide to accept or redefine the features to your liking.
Afterward, go to the Output section and adjust the screen space, resolution, file save settings, etc.
From here, all you need to do is click on the button "Start Recording," and the OBS Studio will start recording your monitor and help you create videos the way you want.
Screencast-O-Matic
Screencast-O-Matic is one of the most flexible tools on this list that works on several platforms giving you the benefit of transitioning between different platforms or devices. With the help of this software, you can not only adjust the screens according to how much you need to record and then readjust the audio and decide whether you need to add your webcam, captions, etc.
Whether you want to record your gaming sessions, meetings, or anything else, you can always use Screencast-O-Matic to record anything and everything and edit using their added features within the app or export the file to edit somewhere else.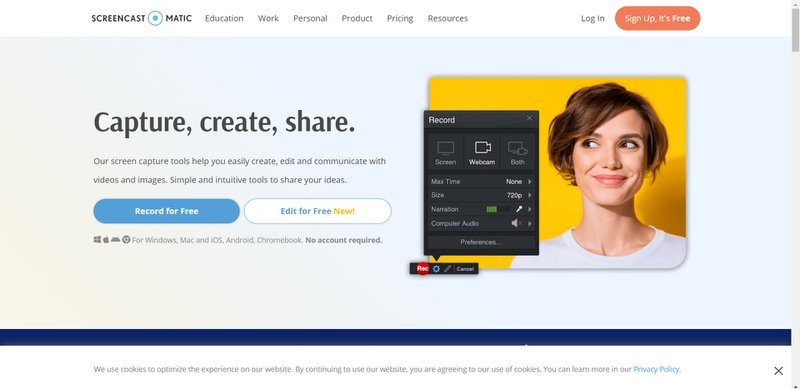 How to Record Using Screencast-O-Matic
First, choose the device you want to record your video on and then download the software.
Next, install the software on the compatible device and tap on the "launch screen recorder" option to start recording your monitor.
And to understand whether or not the screen is recording, you can look at the pop-up feature, which will show you the indication.
Later on, you can select whether or not you want to add the captions, or not.
Lastly, save the files according to your preference, like MOV, MP4, FLV, etc.
Key Takeaways
Screen Recording tools are the go-to for any professional these days, and it makes sense why. From documenting events, and meetings to creating advertisements and tutorials, the scope of Screen Recorders is much larger than you think.
You should always be mindful of the features that come with each tool you select because it will eventually get reflected in the work you will create. With VideoSends, the opportunities to make videos that suffice the needs of both you and your customer are plenty, and the cons? Very few.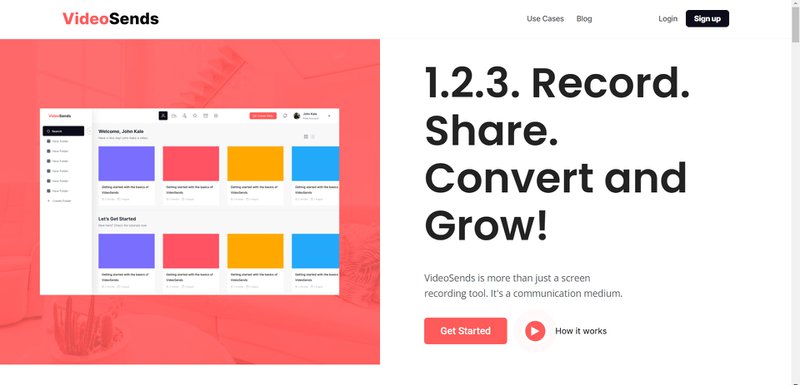 Here at VideoSends, we understand the need for videos to deliver messages across. And that is what we strive to provide, a platform that is easy to use and intuitive enough to allow its users to bring their vision to life. So, what's with the wait? Sign up today.