A good Video recording software will allow you to record video effortlessly on your desktop or laptop. Video recording software is kind of mandatory for any business entity because it helps them to boost up their business in a greater context.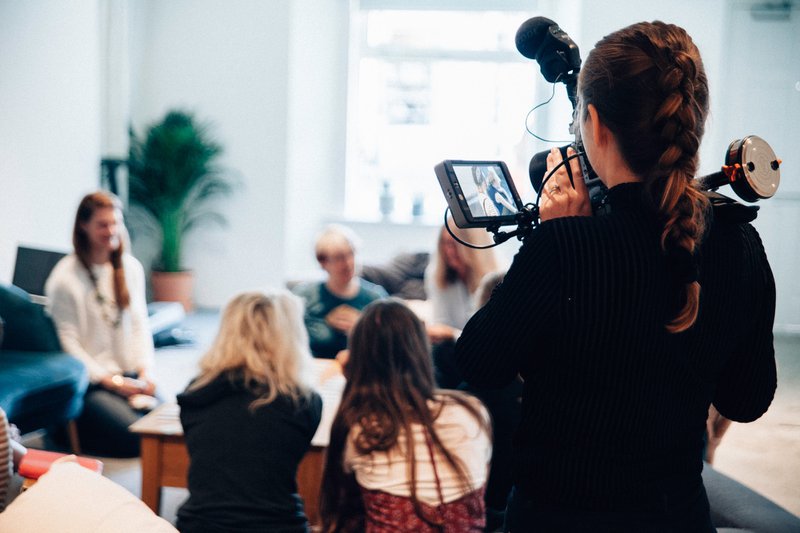 However, among so many software flooding the market, it can be quite challenging to get the best video recording software. Well, don't worry, we got your back!
Top 11 Video Recording Tools
In this article, we'll see the 10 best video recording software for your desktop in the market and will get a clear overview of them. Without further delay, Let's get started!
VideoSends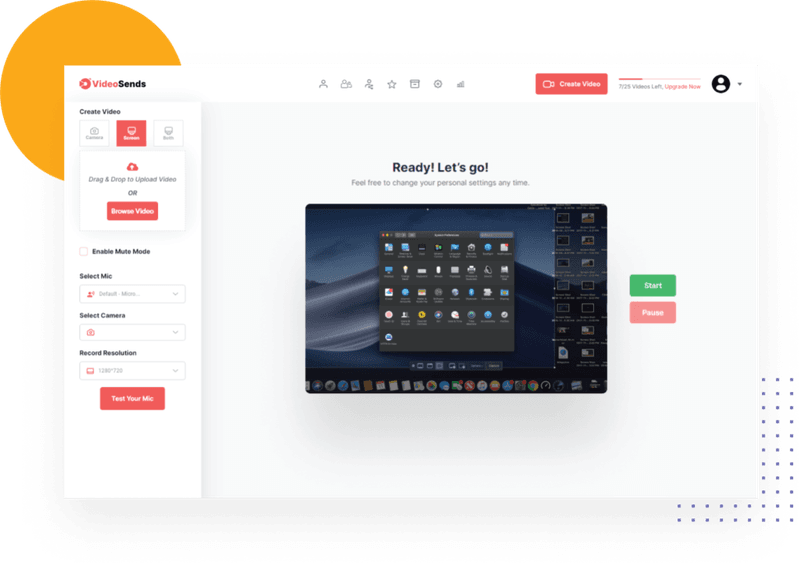 VideoSends is an awesome platform, that you can use extensively for both professional and personal needs. You can add your team members from your account, simplifying collaboration. It simultaneously acts as the video editing tool, enriched with options like live marketing and noise cancellation. In fact, the platform lets you share your video on multiple networks directly after you are done editing. Hence, building a community. You can create a maximum of 25 videos of 5minutes with the free version. However, the upgrade offers unlimited opportunities. Check out their premium services, you will not be disappointed. The easily editable process along with its fast recording capacity makes VideoSends a noteworthy choice. You can create, edit and share all at the same place. Interestingly, the platform is embedded with marketing metrics. It comes with an analytical instrument and collects viewer insights. Thus, it helps you understand the reach your content generates. Since you can track engagement through the platform, it becomes easier to strategize the upcoming content.
Loom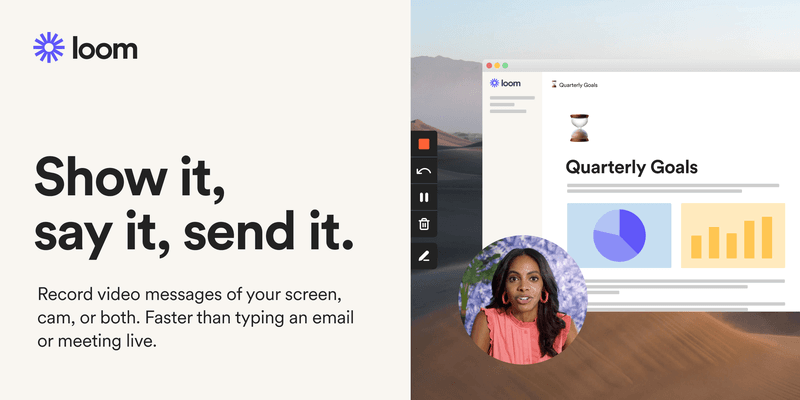 Loom is one of the best video recording software in 2021. This software will record your screen and also via camera and will transfer the recorded file to your email so that you can easily watch it from any place in the world.
This software can record your screen alongside your face. So this software can be the best for professional gamers. After that, you can share the link of the video to other platforms. You can also use this video for your other websites or blogs. This software is available for both Windows and Mac.
This software has exclusive features including premium designing, team alignment, engineering, product management, and many more. Besides, you can also approach your customer through this. Also linking your videos with your website, calendar, pitch deck, and also with CTA's is very handy with this software. You can also link videos with GIFs even with a Gmail account through this.
The annual payment for the premium version is $8/creator each month annually. All the details are given on their official website. Besides, the starter plan is completely free. You will get access to their Team Library and Viewer Insights. The video time limit has a time range of up to 45 minutes.
Covideo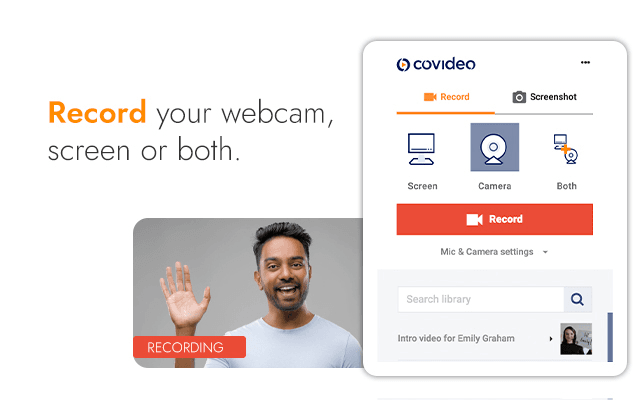 Covideo allows video recording for video email with a webcam. With this software, you can make videos effortlessly by using your screen or webcam. Covideo allows you to send the video by email, CRM, or text message with various special features and this is the reason why Covideo is this famous in the present market.
When you send the video directly via message the receiver can easily choose a landing page of their choice when they click on the video. Editing videos is a work of a few minutes with this software allowing you to add captions, dashboards, merging, and also trimming. You can also add CTAs that will give your viewers to get a follow-up or even send a free replay video.
Covideo is the best for marketing and sales teams as it gives you a special feature to reach out to your customers through personalized videos. They have a 7-day free trial and you can also purchase their premium version at $49 per/user/month. You should keep in mind that you will have to pay extra to get access to more customized landing pages.
Screen-O-Matic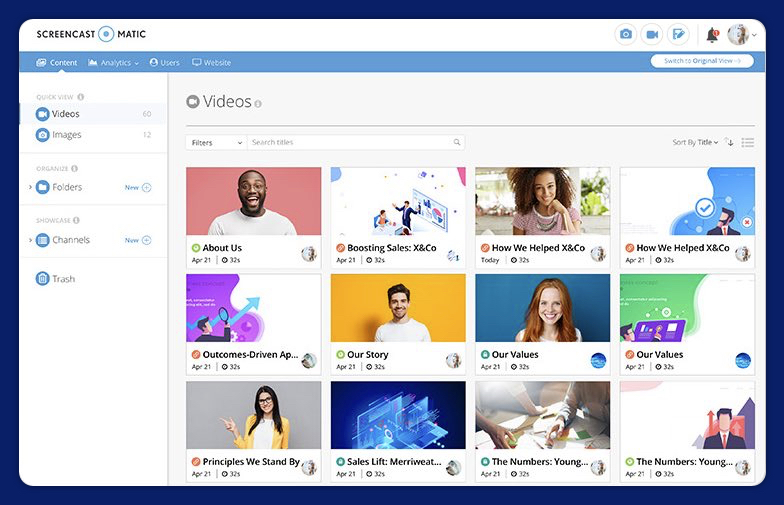 Screen-O-Matic is one of the easiest video recording software. You can record your desired videos both on Mac and Windows with this. Like the other apps, you can edit, trim, add music, captions, animations, effects, and so on. You can easily host your videos directly from this software to other social media platforms such as Facebook, MS Teams, Twitter, Google classroom, and can even upload videos on Youtube, Dropbox, Vimeo, or Google Drive, whichever you want!
This is one of the most affordable video editing software with extensive editing features. Besides, you can get access to many more premium features if you purchase their premium account. Still, their free version has quite mentionable editing tools with which you can create a productive video.
The premium version costs $4 and the Deluxe version costs $1.65 monthly. The deluxe version has lucrative features such as advanced and upgraded tools, access to all music, speech to text features. The premium version has a stock photo library, branded video hosting, and a custom video player.
Sendspark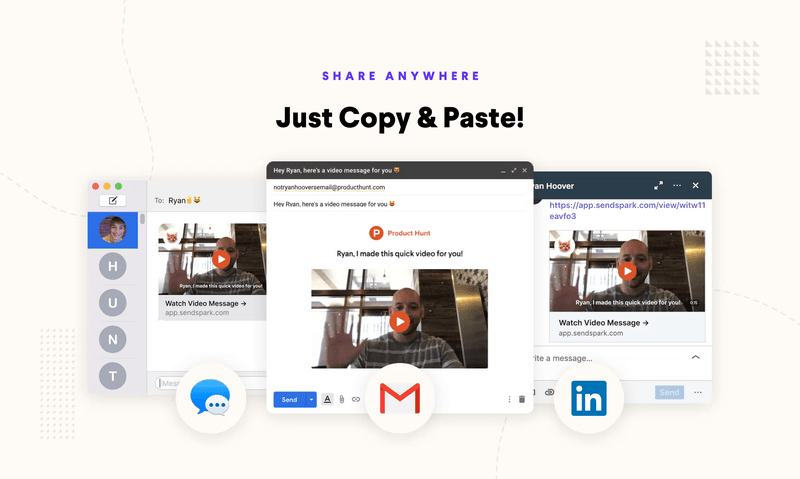 Sendspark has many lucrative features that allow you to record as well as share with your audience. It is actually cloud-based software so you can work at any place from anywhere and you don't need to download extra offline software for it. All the works are saved automatically so even if you lose connection in between your editing, still, all of your works will be autosaved.
You can easily record your screen as well as from a webcam too or from both. Sendspark will allow recording up to 720p HD videos and unlimited size of the video, so you can be more productive and create eye catchy lucrative videos.
Through Sendspark you can send personalized emails, newsletters according to your target audience. So it is the best video recording software for people in sales, marketing, and customer satisfaction. In fact, you can also send direct messages to your customers to create a sophisticated brand image of your product to them.
Sendspark has a unique and simple UI. You can easily customize your video even if you are new to this platform. Sendspark will create a special bridge between you and your customers because you can ask for small videos from your customer for evaluating customer satisfaction. This software is easily workable with Hubspot, Gmail, Outlook, Slack, and many others.
Droplr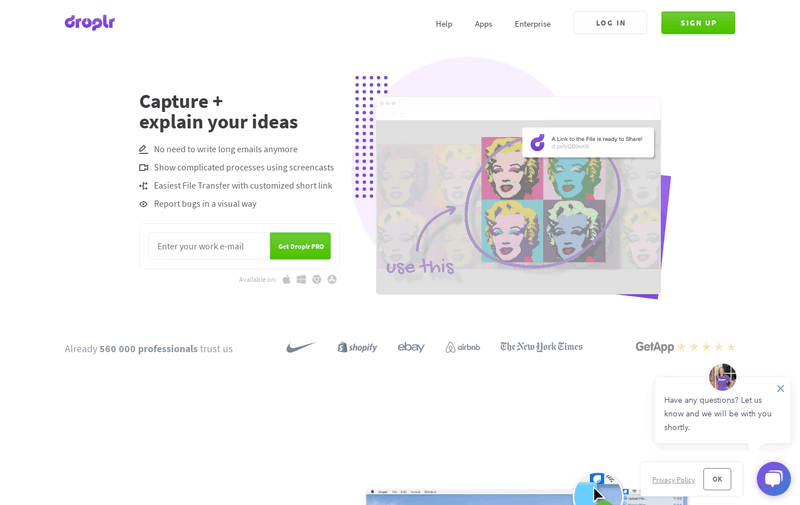 Droplr is another cloud-based video and screen recording software. It is available for Mac, Windows and also can be worked as a Chrome extension. Through this, you can record HD video or GIF with a webcam and external audio system. As this is a cloud-based platform, the file is automatically saved and you will get a link to your recording which you can share to other platforms.
It is a perfect platform for remote teamwork and also customer service representatives. As it is a cloud editing software, Droplr's autosave and easy sharing feature allow users to share video with a large number of people; so it is one of the best options for teamwork.
The price of Droplr begins with $7/user/month for teams and $7/month for pro users. Teams consisting of 16+ members can use Droplr with customized pricing.
The most interesting fact of Droplr is that you can record the whole screen or a part of it or even a selective window. Besides the 4k videos will be saved automatically and even will minimize strain on-device storage. Besides, you can also edit the URLs.
Through Droplr you will give you access to analytics so that you can get an idea about views and clicks. You can also use other apps alongside such as photoshop, Gmail, Slack, and Trello.
Camtasia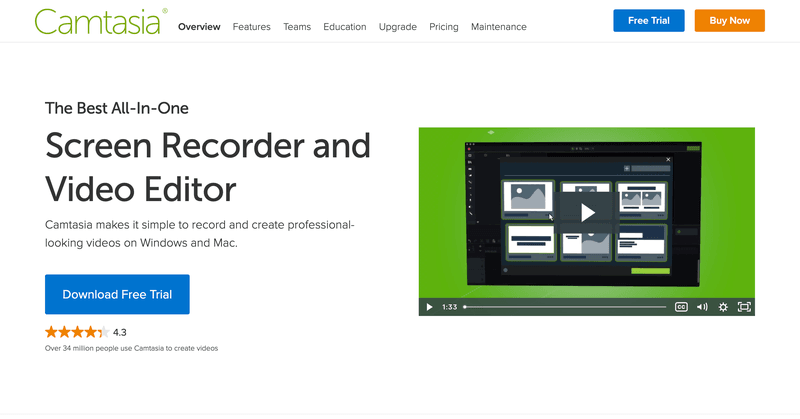 It is a premium video recording software from Techsmith. You can record your video with your webcam and audio and then you can use the exclusive features from Camtasia and thus can create a dope video of your own.
There are many exclusive features in Camtasia such as adjusting audio, trimming video, adjusting the background, annotations, adding music or other audio, transitions, animations, table of contents, suitable captions, and many more. Besides, there are also some sample templates and options to customize them so that you can make a video in the shortest span of time.
Camtasia has the most flavorsome editing tools among all other video recording software in the market. So it is quite normal that Camtasia is the most expensive software in the market. It charges $249.99 per user with a volume discounting price option for nonprofit organizations and businesses. Besides, you will have to add a little bit of fortune if you want to add Camtasia Maintenance which costs around $49 per year.
Bonjoro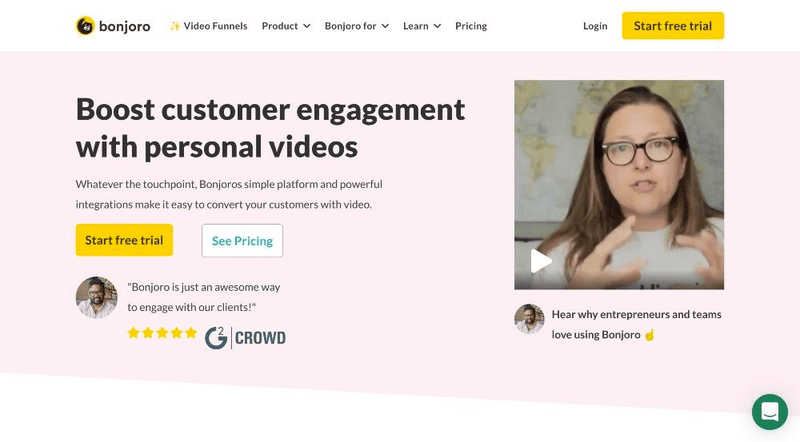 Bonjoro is another video recording and sharing software which will allow you to create email personalised videos for your target audience.
This platform has numerous lucrative templates for videos, email design including CTAs so that you can create your own customized email for your desired clients. Through this, you will be able to use CRM trigger lags and can communicate with your clients for various actions. As it incorporates other sales and marketing tools, this software is pretty renowned in the corporate work culture.
There is an amazing feature in Bonjoro. You can translate your landing page and all video emails into 20 different languages. Also, you can set up tea inboxes and can communicate within your team while working in Bonjoro.
Bonjoro has two packages. The Starter pack is $15 per month and the Pro pack is $33 per month. But if you want to purchase Bonjoro as a team then the price escalates to $79 per month and a total of 3 members can use it together. But if you want all of your team members to have access to your Bonjoro account, then you can take the $399 per month package and can add unlimited members.
Soapbox Wistia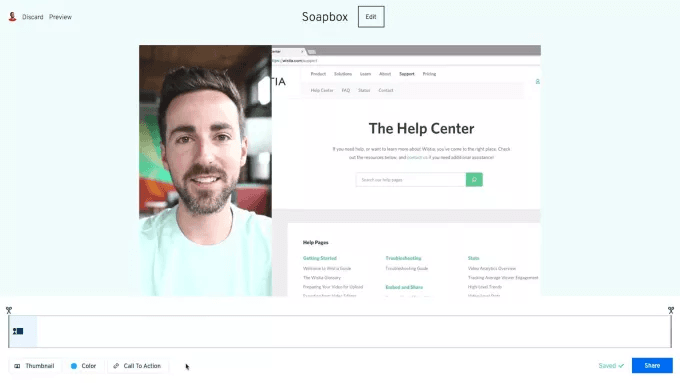 Among all of the costly video recording software, Soapbox Wistia is absolutely free one. So this software is a good option for people who just started their journey. It is usable in both Mac and Chrome extensions so you will not have to install extra software on your laptop.
You can easily record and switch between video and screen sharing if needed simultaneously, just like Loom.
Though it is free for all still it has quite a bunch of video thumbnails, GIFs, text overlay with which you can create eye-catching videos and GIFs.
The only drawback of this software is that it allows only one-take video and you will not be able to see yourself on the screen while recording the video. Still, it is a great deal for tutorial video makers and content creators.
Its Pro plan is $99 per month.
Bandicam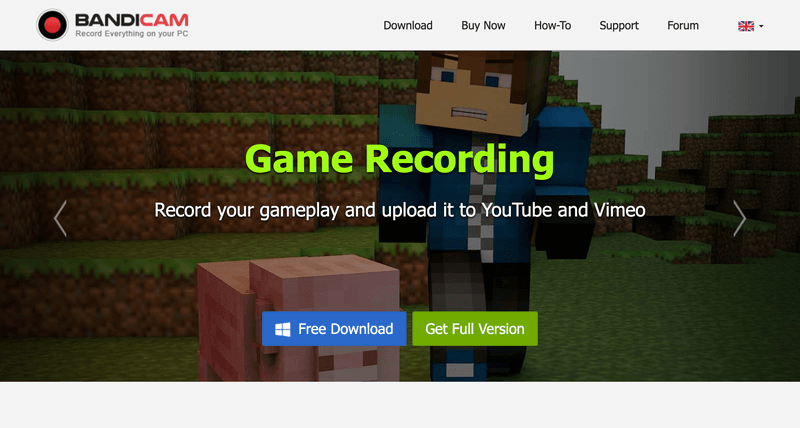 Bandicam is an easy and lightweight video and screen recording software. With this, you can record through externally connected devices including smartphones, Playstation, IPTV devices, Xbox, and many more.
With Bandicam you will be able to record with your microphone as well as with your system audio. Though Bandicam does not allow users to save videos as AVI and MP4 files, you can easily share those videos on Vimeo and Youtube.
Bandicam is usable to Windows users only and as it is completely free you will not be able to record video for more than 10 minutes. Though it has a paid version which is a one-time purchase and it costs only $39.95.
Drift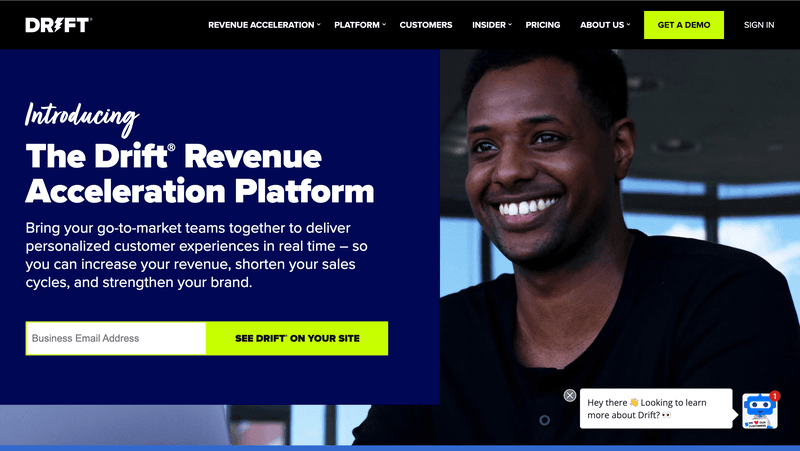 Drift is one of the best options for the sales teams who are looking for leveraging videos in order to accelerate deal cycles. Through this, you can make your own personalized videos and GIFs with your front camera and screen.
There is another exclusive feature of Drift. You can chat with your audience, answer their questions, engage in meetings- that is, you can communicate with all of your audience in real life. You will get instant notification when one joins your video. Besides, there is a Video bot that can work as a replacement when you are absent in real-time.
Unfortunately, Drift has not shared its price range with the public. But it was known that it has three pricing which includes a premium version of Drift alongside a customer success manager.
So these are the best top 10 video recording and editing software in the present market.
Final Words
You can easily select the suitable one for you from these 11. You can also do some more research on the internet before purchasing any of these so that you can buy your desired one correctly. Upgrade and unlock your video recording skills by utilizing the best among them.
Looking for the best-fit video recording tool for your business? You can give VideoSends a shot. Get started today and discover the correct video recording software of your choice.