Everything You Need To Know About Online Video Recording Software
Have you ever tried video recording for your PC? There are many reasons, such as creating a video tutorial for a better and more intuitive presentation. You can record a video that you can't download or record a real-time video to share things with your friends on social media.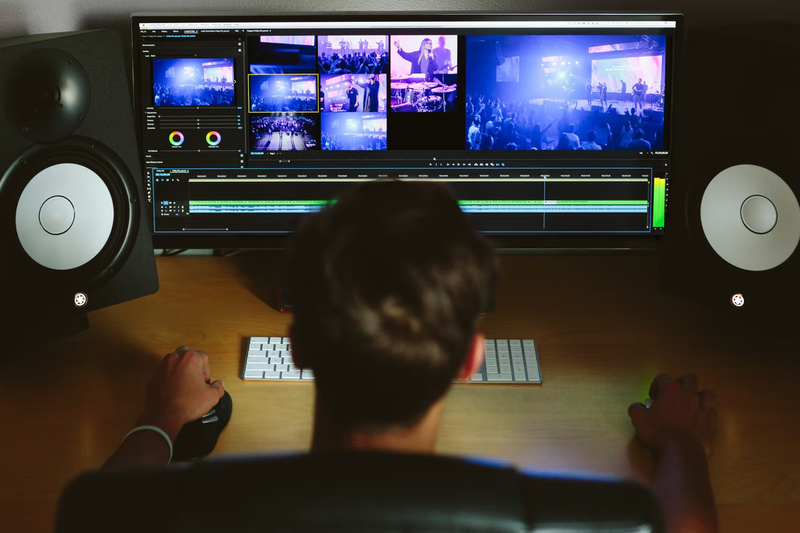 Gone are the days when video recording required a high-end graphics tool. Instead, there are tons of video recording software available in the market. In addition, video capture software is now extremely simple to use and allows you to record almost anything on your computer.
Video recorders help store and transmit data from one person to another. However, these recorders vary based on their functionalities and features. So, it depends on you which one you choose to satisfy your requirements.
In this article, we have listed the top 10 online video recording software to help you choose the best one as per your requirements.
Table Of Contents
TLDR
Video Recording Software is a computer program that allows you to capture your device's screen and share it with others. With this, you can create product-related videos, tutorials, lessons, demos, YouTube videos, and more. You can also record videos from a webcam and screen with voice using these tools.
There are plenty of online video recording tools available in the market. You can select your one based on the features and functionalities you prefer.
What Is Video Recording Software?
A Video recording software for your computer allows you to record your screen, webcam, or both simultaneously. You can quickly record videos for your clients, provide project feedback, and annotate issues with visuals rather than text. It maintains all of the advantages of an in-person connection, including voice and visuals. It also allows you to consume content at your leisure.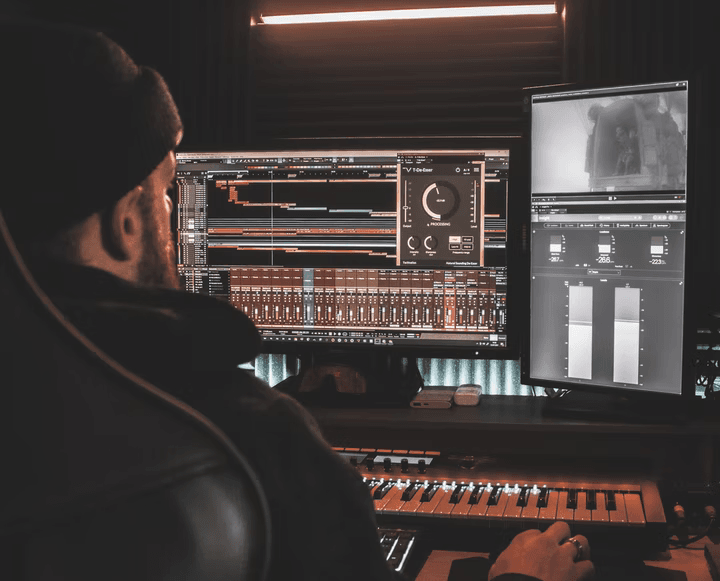 These tools can be highly beneficial to business professionals, as they allow users to easily share everything they see on their computer screens, increasing productivity and efficiency. Video recording software is most commonly used to demonstrate tasks, troubleshoot issues, and create user-friendly tutorials.
While many video recording tools are available for free, some paid ones may provide additional features and functionality. So, based on your platform and requirements, select them wisely.
What Factors To Consider In A Video Recording Software?
Most people assume that because video recording tools simply record videos directly from a screen, the quality will be similar to what is displayed. Unfortunately, that isn't the case as the output is captured in video format, which is subject to a variety of other factors that can degrade its quality.
If you want to start improving the quality of your video recording, you should first learn about the factors that influence them:
Resolution
The resolution of your video will determine how well it is defined. So, higher resolutions are preferred. However, unlike traditional videos, the resolution of the display you're recording from will limit you.
Simply put, the maximum resolution you can record is the full-screen resolution of your display. If you record a smaller portion of your screen, the resolution will be lower. For example, if you have a 1080p display, the only way to record a 1080p video is to capture the entire screen.
Frame Rate
Another vital factor to think about is the video's frame rate. Videos are typically recorded at a frame rate. If you increase this, it will make your video look much smoother.
Recording at a higher frame rate will require more system resources, but the payoff is well worth it. It's also worth noting that the file size of your video will increase as well.
Audio quality
Many factors influence audio quality. You should try to stick to the basics by keeping your microphone still. Minimizing background noise and adjusting the audio levels if possible. If you're going to be recording audio regularly, it might be a good idea to invest in a better microphone.
How To Choose An Video Recording Software?
You need to consider a few factors before you go for your video recording software. Here we have listed the major points that you should follow:
Interface
The importance of convenience. Is it simple to operate? Was it designed with the inexperienced user in mind? Before you choose, make sure you understand what you're getting yourself into.
You'll be regretful if you choose a tool that you can't figure out how to use on your own. On the other hand, you don't want to be forced to seek assistance from someone more knowledgeable. So, select wisely.
Price
Is the screen-recording software paid or free? Is there anything in the fine print? Unfortunately, it's not uncommon for some features to be restricted by a paywall.
Free trial periods are available for some screen-recording software tools, but there is a catch. You either get limited features or have a video length limit or both. Everything else you might use would be an extra cost.
Other similar tools with free trials are much simpler and provide unlimited access to all of their features. Make sure you understand all of the terms and conditions before signing up for a free trial.
Editing Capabilities
You must ensure that the editing capabilities meet your requirements.
Some apps include editing tools or even a complete editor, but don't assume this is true for all of them.
Some apps allow you to review the recording and make edits, while others don't. It's preferable to have editing software. Make sure you've done your homework, so you're not taken by surprise.
Sharing
Unless you're recording for your own and don't intend to share the video, sharing is an important consideration when selecting a video recording tool.
You can save the recording as a GIF, MP4, or a variety of other video file formats once it's finished. After that, you can upload it to YouTube, Google Drive, or Dropbox.
Options vary depending on the tool. So you don't end up with a recording you'd like to share but can't. Instead, find the one that will work for you.
What Are The Top Online Video Recording Tools?
Now that you already know all the aspects of video recording software let's jump into the list of top tools.
VideoSends
VideoSends is a convenient platform for video recording. It has a user-friendly interface and can work perfectly with any video you like.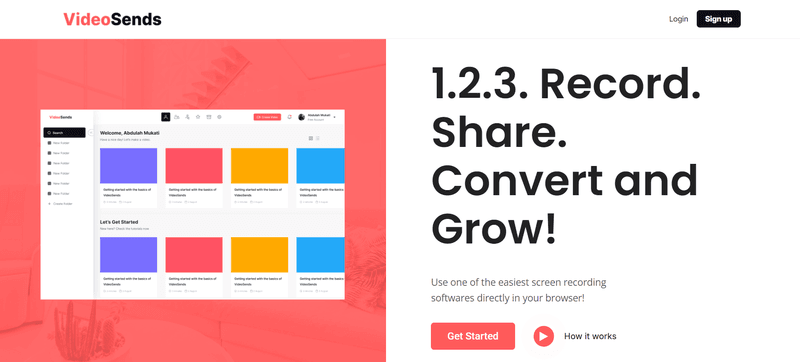 It has a screen record and camera record feature. You can use it directly from your device without installing any software. Moreover, you can share live stream your video to better engage your audience through VideoSends. It provides unlimited storage space for your recordings.
The videos you record here are easily editable. So, you can personalize your videos as per your needs. VideoSends also have the sharing feature to instantly share your videos on any platform.
Movavi
Webcam Recorder from Movavi is a simple and easy online video recorder for capturing webcam video and microphone audio. It's compatible with all major browsers, including Chrome, Firefox, Edge, and Opera.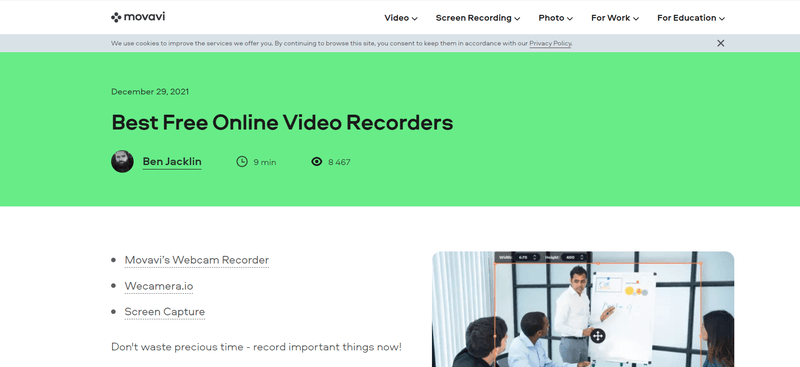 In addition, it's effortless to set up in just a few clicks, making it ideal for beginners. This online webcam recorder can be used for various purposes, including recording calls and conferences.
ShareX
ShareX is open-source, free recording software with many of the same features as premium, paid software.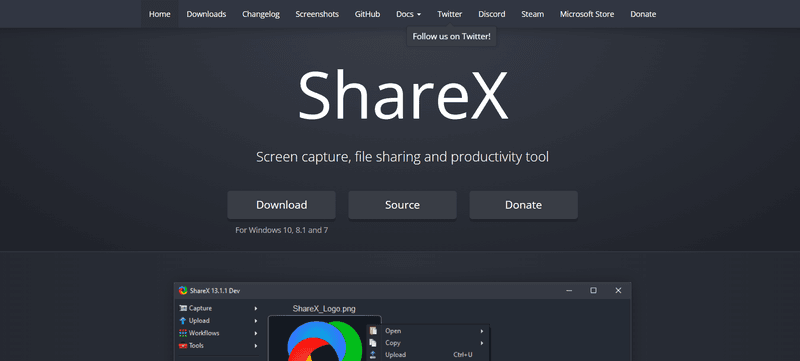 It is a free-to-use application currently only available for Windows and Linux. Windows 10, 8.1, and 7 are all supported.
Users can save videos in various file formats or simply upload them to sites like Google Photos, Imgur, ImageShack, Flickr, and Twitter. You can also save recordings as animated GIFs.
Webcamera.io
Webcamera.io is another popular online camera recorder that has attracted many users over the years due to its outstanding performance and versatility. You can use this online video recorder to take pictures, record webcam video with audio, and more.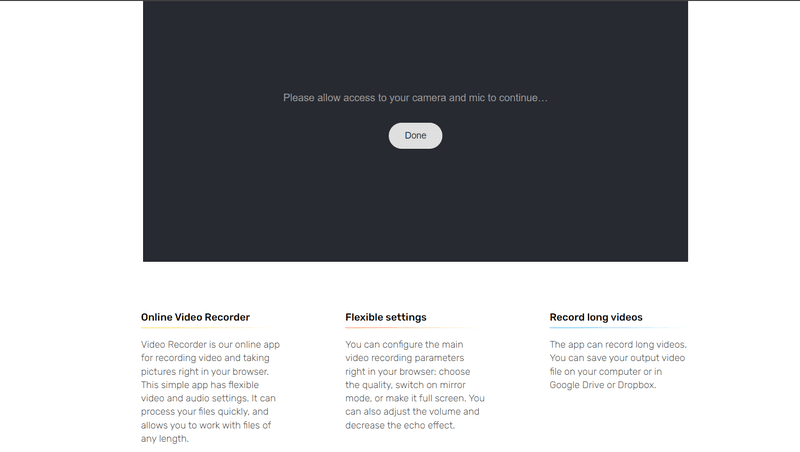 You can save completed videos to your computer or an online drive like Google Drive or Dropbox, and it's entirely free to use in your browser. Webcamera.io's files are also completely secure, and there are some fun extra features to experiment with.
Clipchamp
Clipchamp is a high-quality, completely free online video recorder. It does not require any download or installation. You can use this tool for free to record unlimited 480p videos or upgrade to a premium plan to remove the watermark and record in higher quality.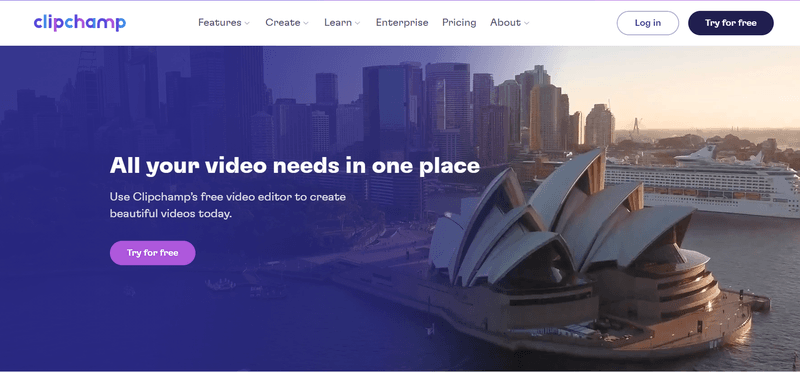 Clipchamp is a recorder and editor in one. It allows you to take a video online and then improve your clips with effects, sound, and other editing tools like trimming, merging, rotating, and so on. After that, you can either upload it to YouTube or save it to your device.
GoPlay
GoPlay is the Windows version of ScreenFlow. It has similar capabilities, making it a one-stop shop for video recording, editing, and publishing. Users can also record and edit videos within the GoPlay software. It has a wide range of built-in video editing tools and supports 4K-60fps recording, making it suitable for a wide range of users.
Users can record their screens in regular apps and games and their webcams, using GoPlay's PIP recording feature. You can also record audio to make a complete video all at once.
After the video has been recorded, GoPlay's basic and advanced editing tools, including trimming, transitions, text animations, and more, can be used to edit it quickly. Users can also choose from various filters and apply them to videos with just one click.
Another helpful feature is that users can easily create closed captions for their videos, and the process is simple and intuitive.
Camtasia
Camtasia is one of the most popular video recording and editing programs on the market today. It's filled with fantastic features that users can use to create professional-quality videos with relative ease, all from within a single piece of software.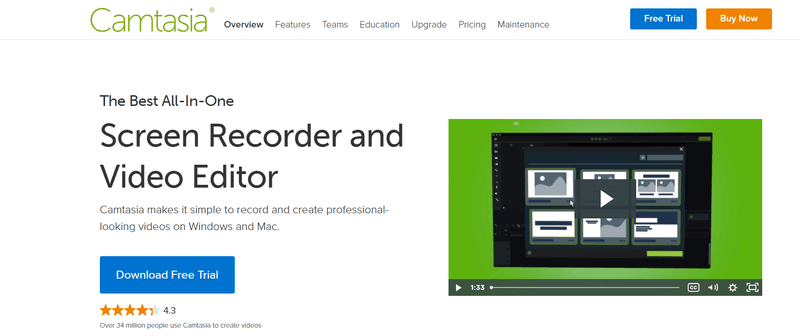 Camtasia is compatible with both Mac and Windows computers. It works with Windows 10 and also macOS 10.14 and later. In addition, it accepts a variety of file types.
Camtasia can create high-quality videos with advanced editing tools by following a simple workflow. Camtasia also comes with templates and presets to help with video editing.
Users can export the videos in various file formats or directly upload them to YouTube, Vimeo, Screencast, or a custom website once this is done.
Screencastify
Screencastify is a simple and easy-to-use Chrome extension that allows Chrome browser users to record videos quickly. It may be lacking in features, but it does the job impressively. It enables users to record, trim, annotate, and share videos easily.
Because Screencastify is a Chrome extension rather than a standalone program, it works on any device running Google Chrome. There is also a free version with all of the same features.
Users can also embed their webcam into the screen recording video to create a picture-in-picture display with Screencastify. Screencastify videos can be exported as MP4, animated GIF, or MP3 files.
Covideo
Covideo is a video recording application directed at business, marketing, and customer service professionals. It assists professionals in creating a personalized video that can primarily be shared via email.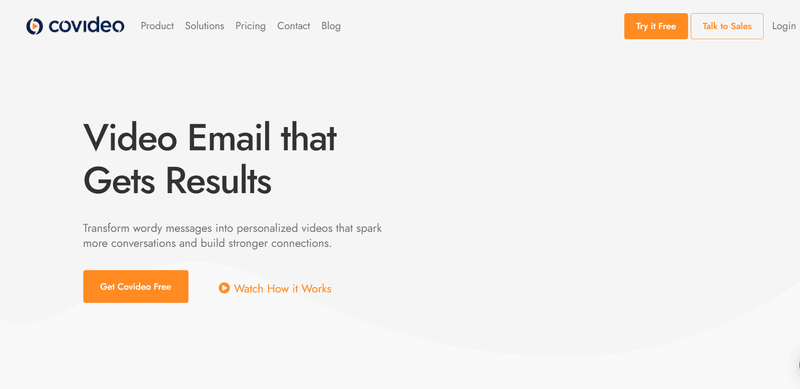 Covideo is compatible with Windows, Mac, Android, and iOS. It offers a 7-day free trial version. After that, the paid version starts at $69 per month per user.
Users can easily record their screens and webcams with Covideo. The iOS and Android apps even allow users to register themselves using their cameras. It enables them to create videos on the fly for customized, personalized email responses.
Covideo also allows for basic video editing, a custom video player, and the addition of captions to videos.
OBS Studio
OBS Studio is one of the most popular video streaming and recording programs on the market. It is frequently referred to as the most powerful screen capture tool. It comes with everything a user needs to live-stream themselves playing games or doing anything else on their device. It's the software of choice for most YouTube and Twitch streamers.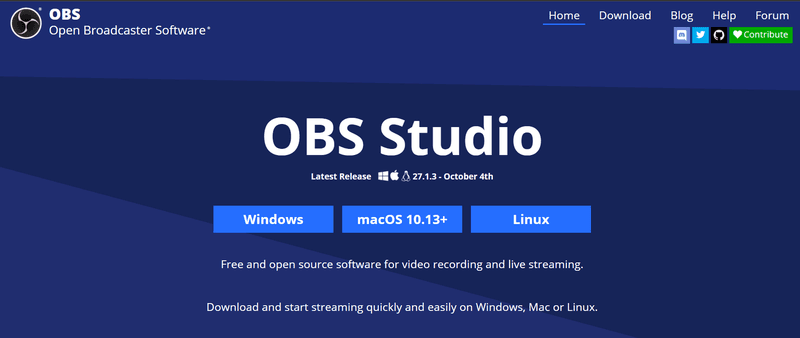 OBS Studio is a free and open-source application. It's compatible with Windows, Mac OS X, and Linux. For gamers and content creators alike, it's a full-featured, professional streaming, recording, and editing solution. It is quite complex and requires some practice to use and master.
Wrapping Up
By now, you already know why you need online video recording software. It's time to select the right software that best serves your needs.
If you are still unsure which one to select, you can go with VideoSends. VideoSends is a user-friendly recording platform that allows you to record anything on any device. It also allows you to customize the video and share it in seconds.
So, what do you have to lose? Sign up now to instantly record, edit, and share your video!