Why Can't I Screen Record? - The Possible Solutions
Whether you are a YouTuber or a professional, screen recording is essential nowadays. This is because you can get so much work done by screen recording!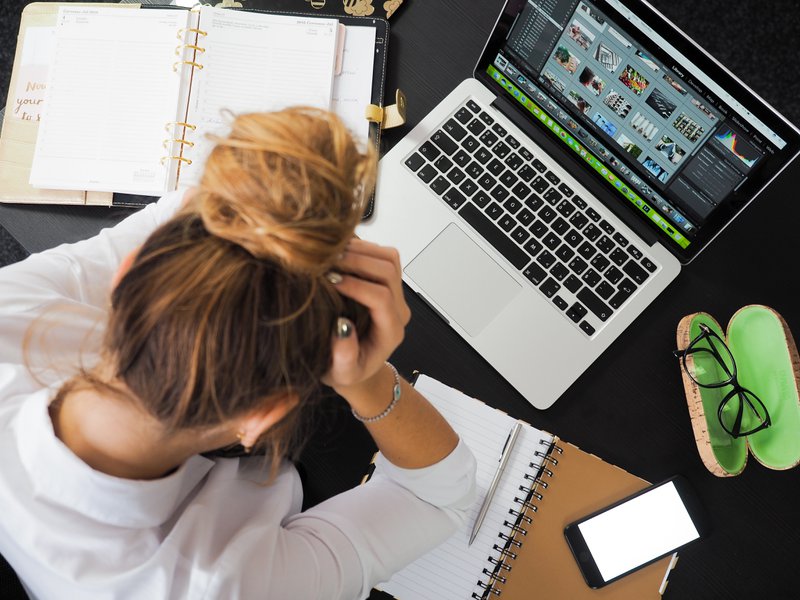 Be it online training, webinars, live streaming of games, online lectures, or product tutorials, screen recording comes as a savior.
Hence, when this feature doesn't work, it creates a nuisance in our professional lives.
In this article, to ease your pain, we will talk about the odds of screen recording for android, android 11, and ios.
So without further ado, let's begin.
Jump To Content-
TLDR
Screen recording can go wrong for many reasons.
You might experience trouble in screen recording on any device for some particular reason.
Certain apps or companies might pose restrictions on screen recording.
Restarting your device can help sometimes.
Third-party apps can hinder your screen recording.
Screen recording software can help you to personalize your screen recording videos.
Why Can't I Screen Record On My Laptop?
Your device may not allow you to screen record for a few reasons. The reasons are stated below-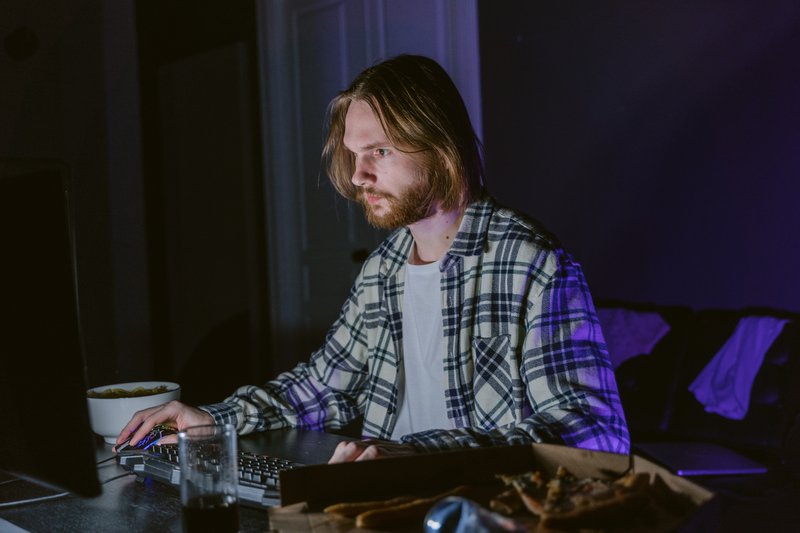 Restriction On-Screen Recording
You will be unable to screen record if the phone manufacturer restricts the screen recording feature. It causes a permanent disability to your screen recording feature. Unfortunately, many manufacturers lock the screen recording and screenshot feature.
In this case, there is no other option for you to change the device if screen recording is crucial to you,
Restriction On-Screen Recording Due To Company Policy
If you own a laptop provided by your company or agency, they might choose to disable the screen recording feature on that phone. Some companies do that to protect their data.
Restriction On-Screen Posed By Certain Apps
Some apps, mainly banking or financial apps, disable screen recording and screenshot features by default. But the restriction is mostly on their app. It is done to secure users' private data.
How To Fix?
You can solve this issue by rooting your device. You can install some root-specific screen recording apps when you root your device. But you will need special permissions.
However, if your device has a restriction on on-screen recording because it's against your company policy, maybe it's not a good idea to do this.
Besides, rooting requires an excellent understanding of development and troubleshooting. Therefore, our suggestion is to visit the IT department of your company if it's necessary.
Why Can't I Screen Record On My Android 11?
The new version of Android, also known as Android 11, may come with many new features. One of them is Screen Recording. Indeed, it's an exciting feature; however, unfortunately, many users cannot experience it.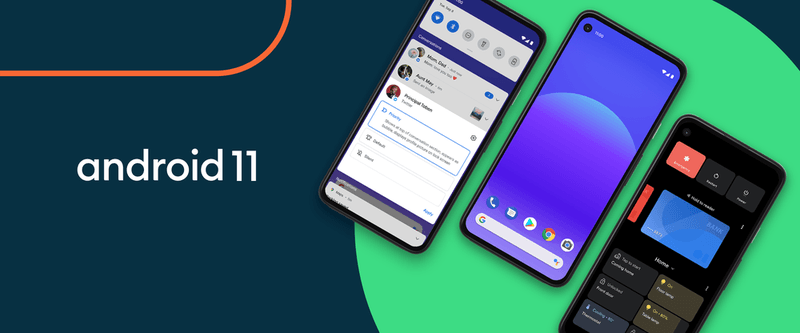 Some users of Android 11 are facing some troubles while screen recording, such as:
They are unable to record audio with the video,
They are not seeing the Screen Recorder option on their Android 11 phones,
Some of them have faced quality issues, and
Some couldn't film the whole thing because the screen recording stops midway.
If you have encountered the same problems, try the solutions below to fix the issue.
Restart Your Android
This is an age-old technique to get rid of any kind of problem. While this has become meme material nowadays, restarting your device is helpful. It helps your device to get rid of some bugs. You can apply this to fix screen recording issues as well.
Check Requirements
While it sounds obvious, sometimes the lack of a proper build can hinder many functions. Since the Screen Recording option is available for Android 11, any lower version will not have this feature. You can check that by:
Go to your device's Settings
Click on About
Check your android version. If your device is of an older version, then update it.
Following the correct procedure to record your screen is very important as well. You can only access your Android 11's screen recorder from the Quick Settings option. These are the following steps to Screen Record on your Android Screen Properly-
Click on the Screen Record option from Quick Settings.
When a screen pops up, toggle next to enable Record Audio.
Choose the audio source for your recording from the small down arrow next to the Record audio. Usually, you get three choices: Device audio, Microphone, and both device audio and Microphone.
Click Start to record your screen.
Disable Force Desktop Mode
Desktop modes allow your device to connect to an external display. It provides the experience of using a desktop computer. When you enable Force Desktop Mode, you face audio and video issues on your screen. That's why, while Screen Recording, you should disable Force Desktop Mode from your Settings. To do that-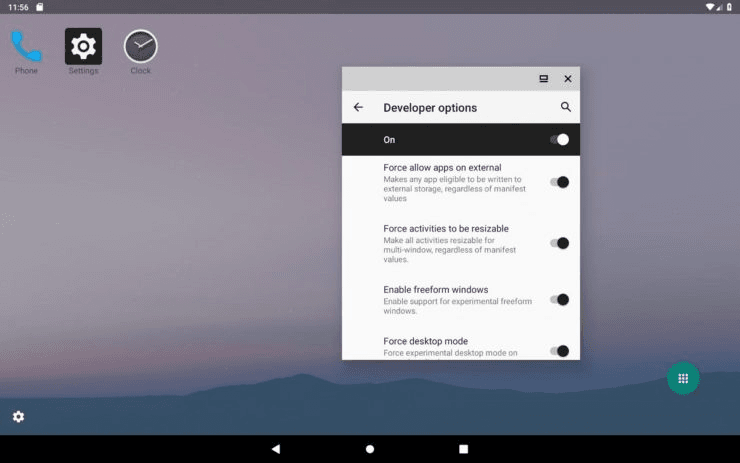 Go to your device's settings
Tap on the System Settings
Click on the Developer option
Disable Force Desktop Mode.
Restart your device.
If you follow the steps accordingly, you will most likely screen record without issues.
Uninstall Third-Party Apps
Some third-party screen recording apps are harmful to your device and its operating system. Therefore, you should not install such apps if you have a default screen recording option.
If you have such apps, uninstall them and then restart your device. This solution was helpful for many android 11 users.
Re-enable Notch
If you modify some notch settings, it can pixelate or squish your screen recording videos. Instead of changing notch, go for making it default by following these steps-
Go to Settings on your device.
Click on the System.
Tap on the Developer option.
Under the Drawing tab, generate a display without a cutout. Click on it.
Instead of any other notch, choose Device default from the list.
Disconnect External Audio Devices
Suppose your device is connected to any external device such as Bluetooth speakers, earphones, or headphones during screen recording. In that case, that might be the reason why you are facing trouble while screen recording.
Disconnect the devices and go to Screen Recorder Audio Settings. Click Internal Audio. There, you are good to go.
Why Can't I Screen Record On My iPhone?
Are you having trouble with saving your screen recording videos? Is the audio inaudible in your iPhone screen recording? Well, you are not the only one.
It turns out most people sometimes have trouble with screen recording on iPhones.
Apple first introduced screen recording in iOS11. This was an essential feature; hence users welcomed it. However, things can go wrong for many reasons.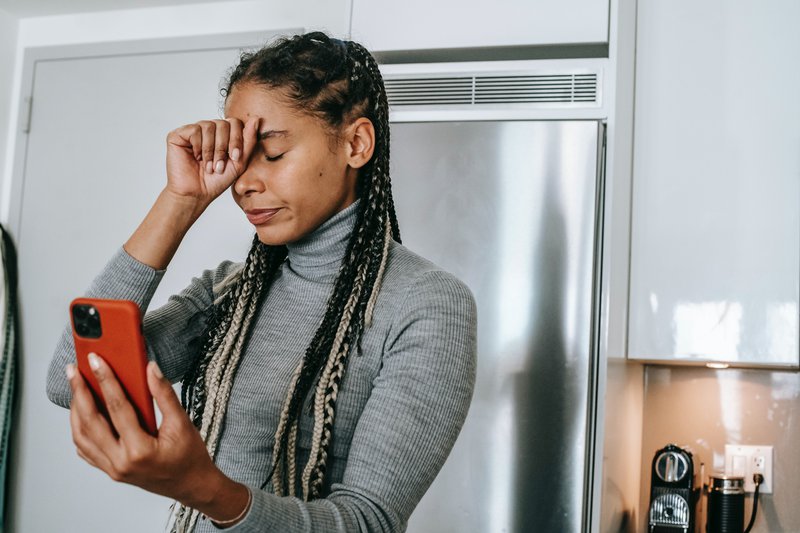 Let's go step by step to fix the screen recording issue on your iPhone.
Check Restrictions
If you see that your screen recording icon is greyed, it means the screen recording feature is restricted on your iPhone. To remove the restriction, go to the Settings option. Next, click on the Screen Time Option. After that, go to the Content Restrictions option.
After that, scroll down and go to the Game Center Section and enable screen recording to proceed. Now you have activated the Screen Recording icon in the Control Center.
Check Device Storage
You will not save your screen recording if your iOS device lacks storage. Check the storage limitation in the Settings option.
Deactivate Low Power Mode
Do you receive the "Screen recording failed to save" message every time you want to save your screen recording?
Well, that might happen if your phone is on Low Power Mode because this mode disables some features automatically.
Go to Settings, click on the Battery option and turn off Low Power Mode.
Upgrade Your iOS Version
Upgrading to the latest version might clear some glitches in your iOS or iPadOS. Because updating to the latest versions provides security updates.
To check if your iOS device is updated to the latest version, go to Settings, click on General, tap on Software Updates. Then, install the latest update if it is available.
Restriction From Developers
"Screen recording failed to save because of 5823."
Looks familiar? Well, error 5823 in iOS indicates that the screen recording feature of your iOS has been copy-protected by its developers. This restriction is on certain apps. Hence, you cannot record content from that particular app. Unfortunately, there's no solution to this kind of problem.
How Can I Screen Record On iPhone?
Here we have given the instructions for screen recording on iPhone 12.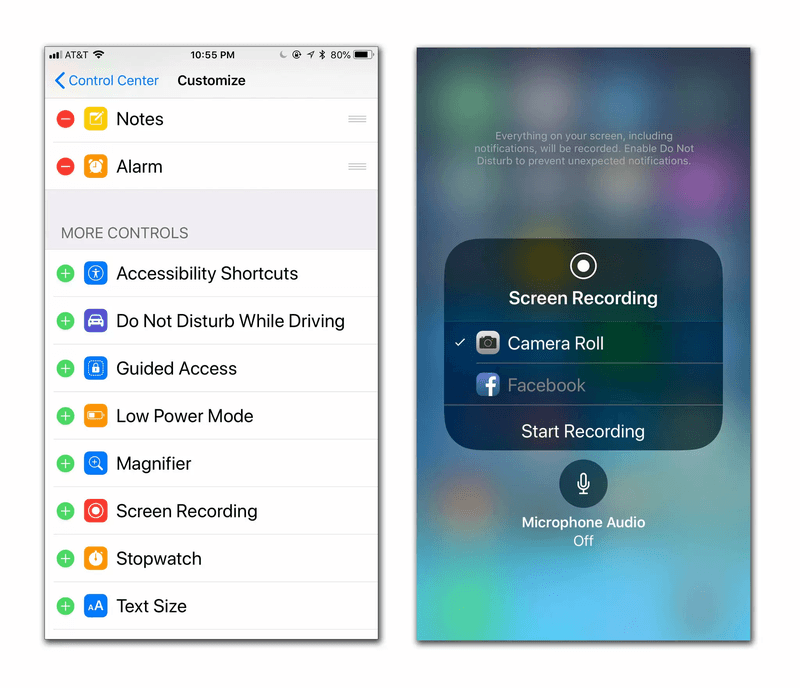 Before you start recording the screen, set up your iPhone Control Center like this-
Settings > Control Center > Screen recording.
Click on the green color plus sign next to the screen recording option.
Now you have activated screen recording to your Control Center.
After that, swipe down from the upper right portion of the screen. You will see a screen record icon. Tap on that.
Now the recording is in progress. So it's time to do whatever you want to record.
There is a red recording icon on the top left corner of your screen. Click on that to stop recording.
Why Is There No Sound On My iPhone Screen Recording?
That's because, by default, when you record your screen, the audio is not recorded. To enable audio, you can turn on the microphone.
Go to the screen's upper-right corner and long-hold the Screen Record icon.
Enable the microphone.
Now click on the Start Recording option.
Ta-da! You have enabled sound with your screen recording.
How Long Can I Screen Record on my iPhone?
This is a common question among users. Apple says you can screen record for endless time if you have
Enough battery charge,
Enough storage space.
If your screen recording suddenly stops, it might indicate that your iPhone overheated itself.
What Are Some Good Screen Recording Tools?
Now that you know the solutions to Screen Recording problems, let's check out some efficient Screen Recording software.
VideoSends
VideoSends is the most efficient software for screen recording. The software interface is user-friendly and will go perfectly with any video.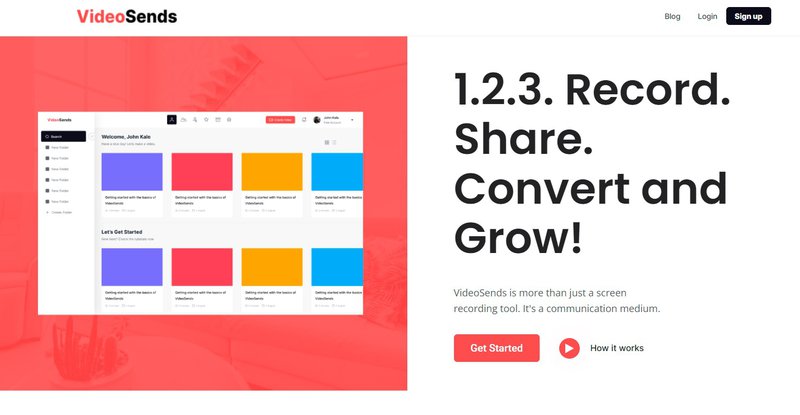 The software has a screen record and a camera record feature. Besides, you can do live stream your video for better engagement with the audience. The most exciting feature is that the software gives you unlimited storage to store your videos.
You can edit and personalize your videos according to your needs and share them from your device on any platform instantly.
Movavi
Movavi is an effortless Webcam Recorder. What makes the software stand out is that it gets along with significant browsers like Edge, Chrome, Opera, Firefox.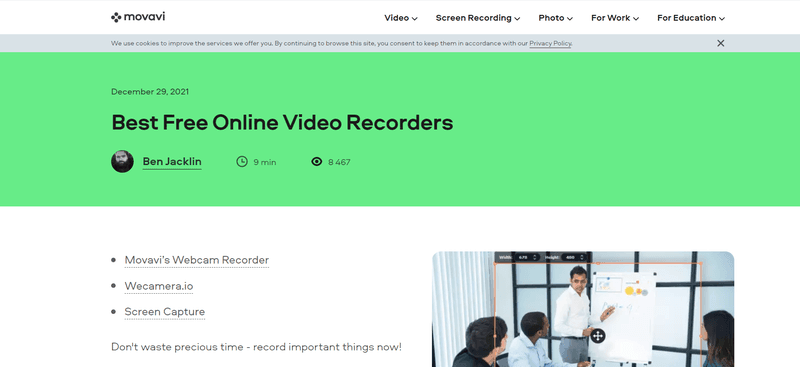 ShareX
ShareX is another efficient screen recording tool. It gives some premium experience in the free version. The free version is available for only Windows and Linux.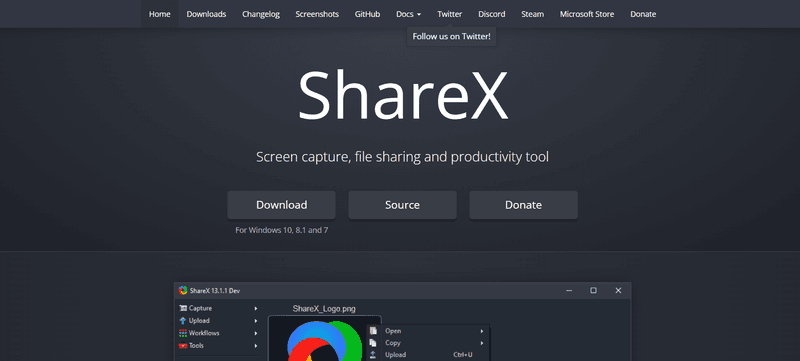 ShareX users are allowed to save videos in several file formats. They can upload them on sites like Google Photos, Flickr, Twitter, etc. It also allows you to save recordings in GIF format.
Webcamera.io
Webcamera.io is popular software. It's a versatile tool with outstanding performance. For example, you can take pictures to record webcam videos with audio with this software.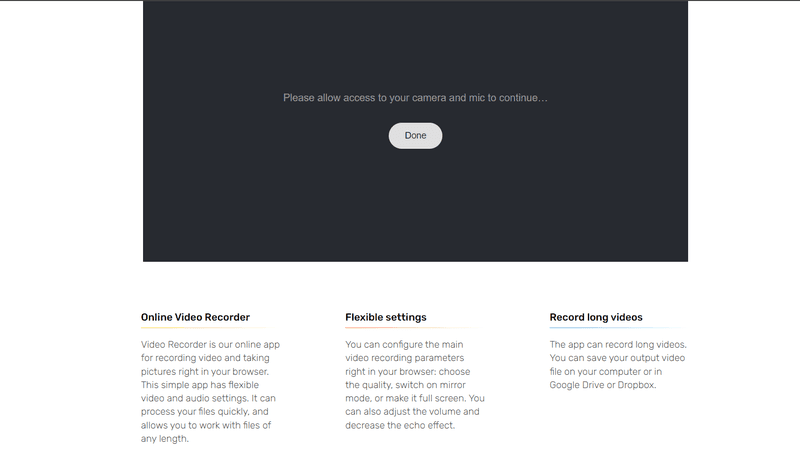 You can save your work on your device or in Drive or Dropbox.
Clipchamp
Clipchamp is another top-notch, free online video recorder. You do not need to download or install the software. You can use the free tool and record unlimited 480p videos. However, to remove the watermark and high-quality recording, you will need to upgrade to the premium version.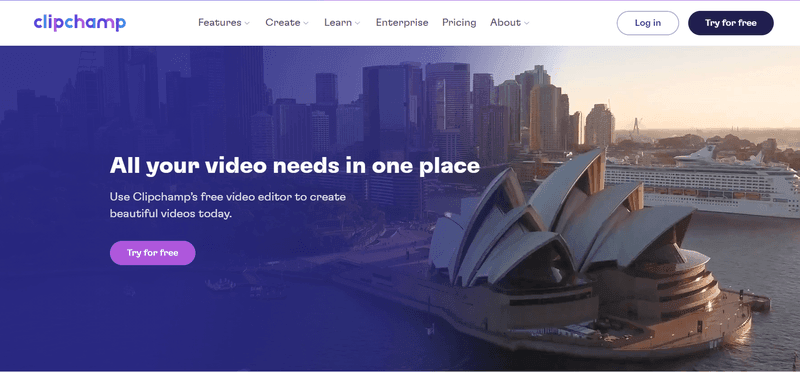 Clipchamp also has an editing option that lets you trim, rotate, merge your work along with saving them on your device or sharing them on social media.
Main Takeaways
I hope we can give you an insight into the solutions to the problems you face while screen recording. Now you need to select software that will meet your needs.
If you are still confused about choosing one, go with VideoSends. Subscribe to VideoSends and experience screen recording like never before!