9 Best Loom Alternatives- Features, Pros, and Cons
Imagine this, you just came home after running errands the entire day, and now you have to attend a boring online seminar. Sounds dreadful, right? So how great would it be to have an intuitive app that could record those inconvenient meetings and calls for you?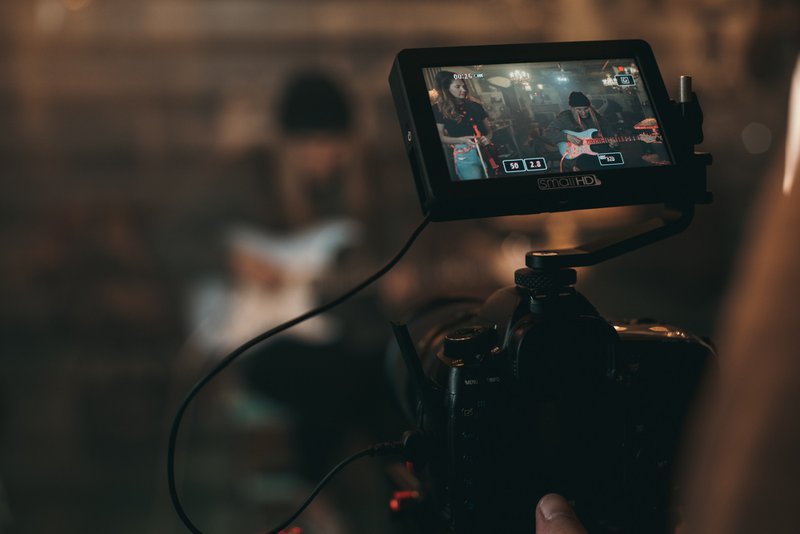 That is where apps like Loom come in. Loom is an app that lets you capture everything taking place on your desktop.
However, like every other app, there is no one size fits all rule in this case. So even if Loom may be a perfect option for some, it may not click all the checkboxes for you.
This is why we have listed down the top Loom Alternatives and their pros and cons that you can choose from for your business communication worries.
Why You Need A Video Messaging Tool
The idea of a video messaging tool is to record your calls and meetings or even classes that you can later edit and share with others.
A video messaging app digitally records any and every content on your desktop and enables editing so you can later use for yourself or share it with others.
Even though video messaging apps are a lot more underrated than they should be, they gained a significant amount of users in the past year during the pandemic.
As everything went online last year, people became increasingly invested in live video meeting apps such as Zoom. And with that, video recording apps enabled an escape from those boring and unproductive meetings to classes.
It's also very useful for creating online tutorials, creating video messages, tracking employee performance, and much more.
As video messaging apps gained popularity over the past year, many software developers have entered the market with their version of video recorders.
What Is Loom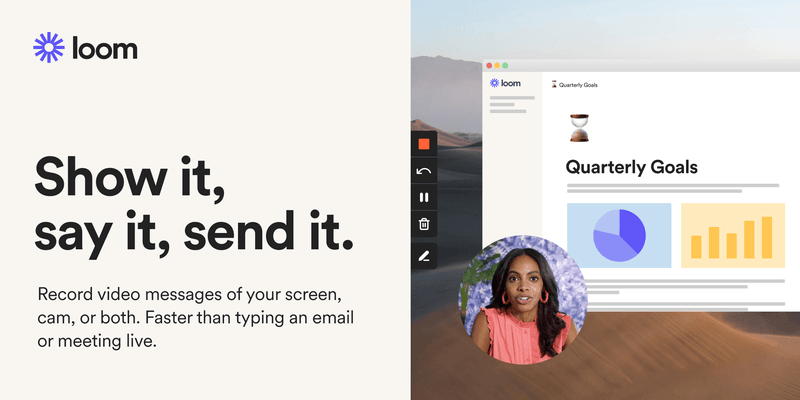 In the world of video messaging, Loom is undoubtedly one of the biggest names. Loom is a video messaging tool used to record the screen, microphone, and webcam, which can then be edited, shared, or even embedded on web pages.
Loom is a great tool for your everyday video messaging needs. With the help of a chrome extension, it enables you to record and edit software or desktop tutorials, record interviews, meetings, online classes, etc.
Loom is consistently making changes and fixing internal bugs to make it more user-friendly. Moreover, it has both a free version and a premium version. And even then, the premium version is affordable, ranging between 8-10 dollars.
That being said, Loom has its own set of cons which makes it not so perfect of a fit for many users.
When you dive in to analyze the tool, you will see that it lacks when it comes to editing capabilities. Not just that, its user interface makes it difficult for anyone to navigate without much inconvenience.
Moreover, you cannot share videos for work purposes without downloading and re-uploading each time. Lastly, the free version of the app limits your recording timing to only five minutes, which is a setback for students.
But don't feel hopeless. There are other good alternatives that you can use to suit your needs.
9 Best Alternatives for Loom That You Can Try
With each recorder having its own added benefits, there is one right fit for everyone. Since it can be time-consuming to choose from a wide range of these recorders, we have listed down the top ten video recording tools for your convenience.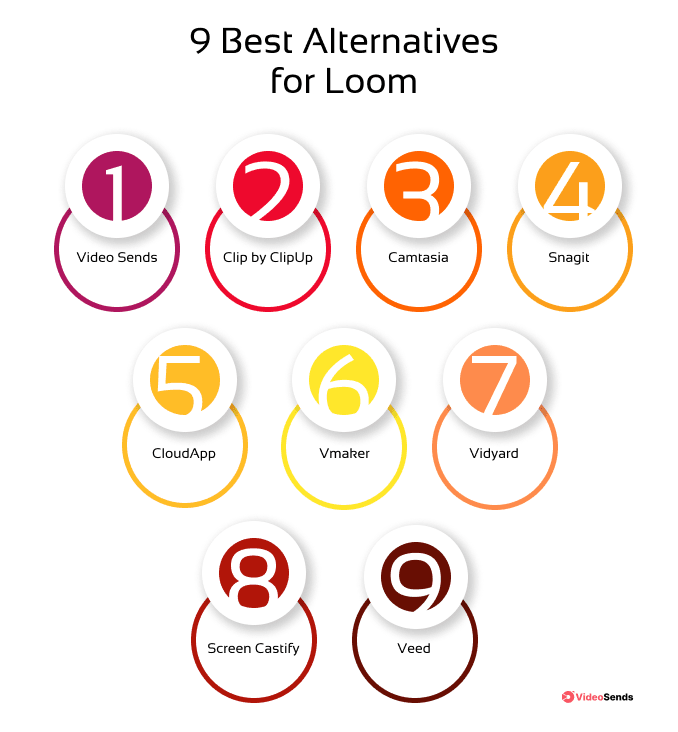 1. VideoSends
Let's start with one of the bests in town for your video recording needs, VideoSends. This app allows you to record and share videos with your team instantly.
Pros
This app makes it more user-friendly and convenient to record videos at any time.
Offers a built-in noise cancellation feature.
It allows you to share your videos with your audience live, so your team gets to watch the video in real-time.
You can add visual effects and texts to your videos to make them look more appealing.
It also has a built-in folder option for you to store your videos to edit later.
No storage limitations.
Cons
Even though you get a noise cancellation feature, you do not get the feature of adding sound effects.
2. Clip by ClickUp
Clip makes it seamless to start a video on Zoom, record videos in real-time, and share with the rest of the team. ClickUp introduced this app for the seamless integration of office management, which is achievable through video tutorials made on Clip.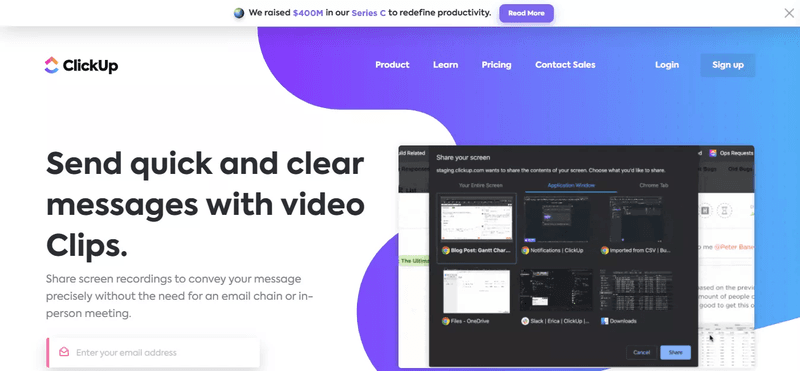 Pros
You can use this app on different devices using chrome or firefox, making it convenient to use when you are on the go.
You can also incorporate this app with YouTube, Google Drive, etc.
It has added features such as Zoom integration, automation, annotations, and much more.
Cons
The clip does not allow you to record videos from webcams. And not just that, it does not come with video editing capabilities, which can be a dealbreaker since you will have to rely on other apps for that service.
3. Camtasia
Camtasia by TechSmith is another video recording app that enables you to create tutorials with its easy-to-use editing feature. It offers users a convenient way of creating professional-looking videos.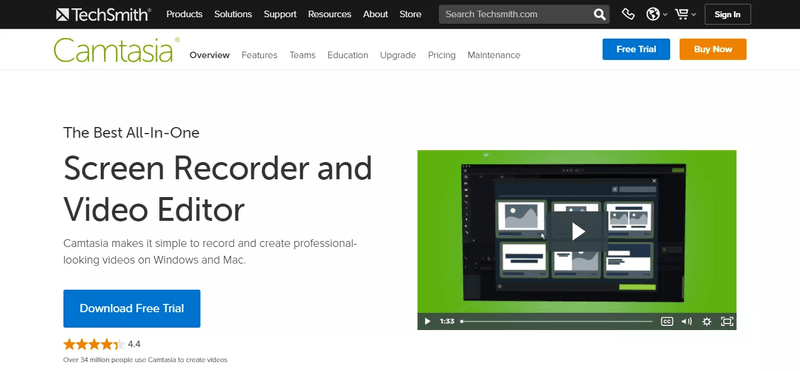 Pros
Unlike Clip, Camtasia comes with a built-in video editing feature that showcases a number of templates, making it less time-consuming to create online tutorials.
Camtasia allows you to adjust the screen space to the part that you want to get recorded. This comes in handy when you have other projects going on simultaneously and do not want to capture the entire screen.
Editors can add a video or audio touch directly using their webcam, making this app one of the top choices for YouTubers.
Cons
Although Camtasia is known for its editing feature, it comes with a hefty price tag. Additionally, you would need prior training or experience to make the most of this app. So, unless you are a professional video maker or editor and do not have a problem with these cons, this app is not for you.
4. Snagit
Snagit is another app by TechSmith used for capturing, recording, and editing the screen. Apart from recording videos on this app, you can also capture screens and edit them per your preference.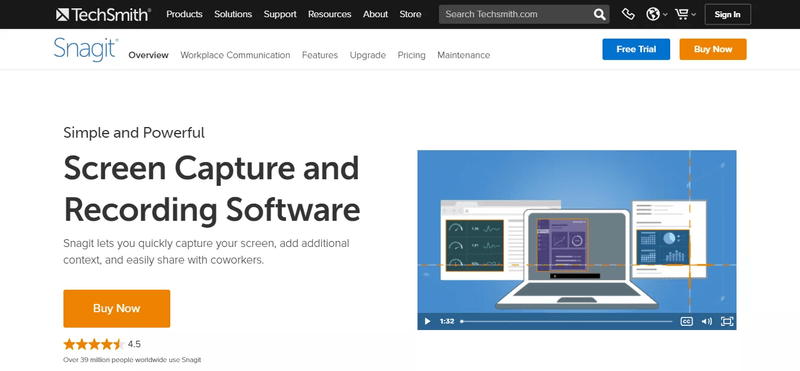 Pros
Snagit is another top pick for video editors since you can add visual effects and insert voice-overs to your recording.
You can either record the videos in an MP4 style or a GIF format.
You can insert texts and filters to add more depth to your video.
Unlike Camtasia, Snagit features a Panoramic effect that allows you to capture the entire screen of the desktop. This is very convenient for those of you using more than one monitor.
Cons
Snagit is expensive and can be too much for new entrepreneurs starting off their business. It is also inconvenient for users to share links since this app uses Screencast.com to share videos.
5. CloudApp
CloudApp - sounds like some app that you can integrate with the Cloud instantly, right? You've got it right. CloudApp is a video sharing and screen recording app that allows you to capture webcams and desktops and seamlessly share to your Cloud Profile.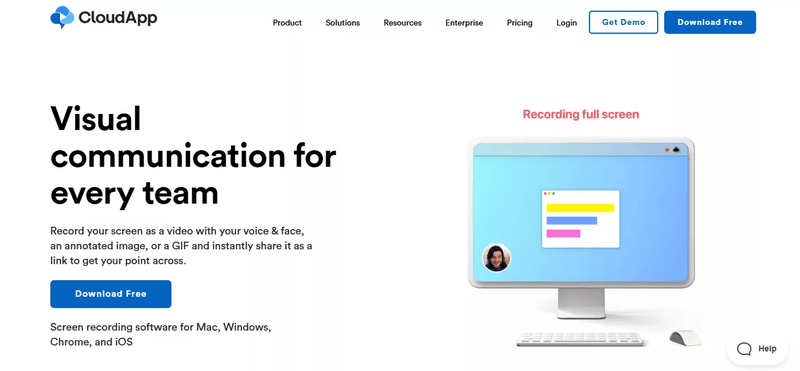 Pros
Since CloudApp lets you incorporate a webcam directly, you can add your personalized video to the screen recording.
Like Snagit, it allows you to record videos in GIF format, so you get options considering what format style you want to select for your recording.
CloudApp assists marketing and customer support departments in communicating better.
Cons
Similar to Loom, CloudApp limits the video recording to 90 seconds for free users. And even though it allows you to add visual and sound effects and texts to your videos, it does not enable trimming, which is a turnoff. So you will most likely have to rely on other apps to trim your videos to make the length shorter.
6. Vmaker
Vmaker allows you to access the webcam and microphone while recording videos. So this app, like some others, enables you to edit and create animated or informative videos.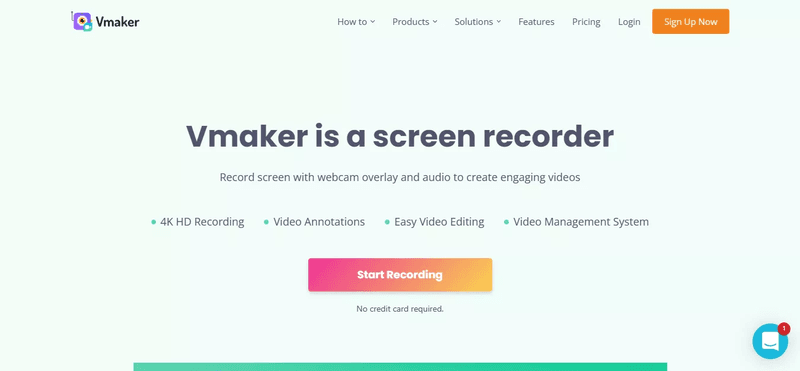 Pros
One of the best traits of Vmaker like VideoSends is that you do not have to worry about the length of the video. Unlike other apps, Vmaker allows you to have unlimited recording length.
Cons
According to client reviews, Vmaker does not offer the option to trim videos conveniently. It can only cut the beginning and the end part of the video and not edit it per your liking, which can be an issue for video editors.
7. Vidyard
Vidyard is a chrome extension for video recording. With this app, you can record the entire screen and everything that gets featured on it.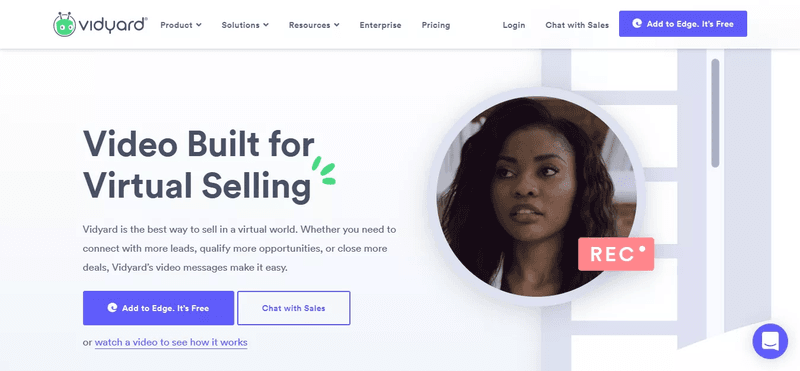 Pros
You can share the videos instantly with your team in MP4, MOV, or WMV format.
It comes with a built-in video optimization feature that processes your videos to rank better on different platforms.
Cons
Since it comes with so many options, Vidyard can get overwhelming quickly for new users. Moreover, its user interface is not so user-friendly, which makes it more difficult for users to navigate.
8. Screencastify
Screencastify is another google chrome extension used for video or screen recording purposes.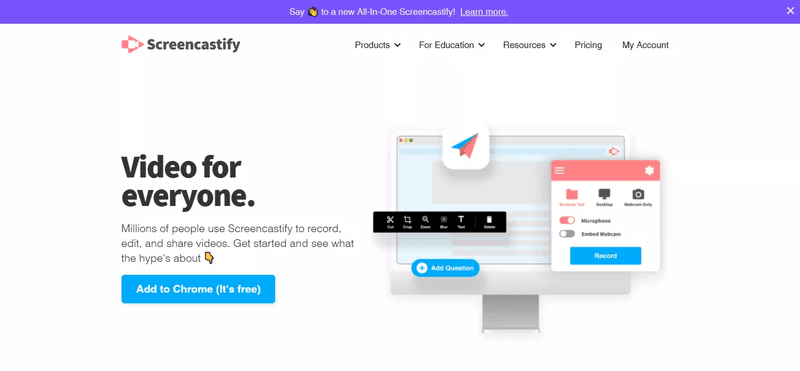 Pros
Similar to Camtasia, this app allows you to adjust and decide which part of the screen you want to get recorded. This feature comes in handy because it lets you avoid extra editing time.
One of the best features of this app is that you can use it in an offline mode as well.
You can also adjust the format of the video to MP4 or GIF. So you can export videos in the style that you choose.
Cons
Customers have mentioned experiencing troubles using this app, such as the voice of the video not matching the content. That is, the sound comes later or before the content on the screen.
9. VEED
VEED enables you to integrate your webcam and microphone into the video while recording your screen simultaneously.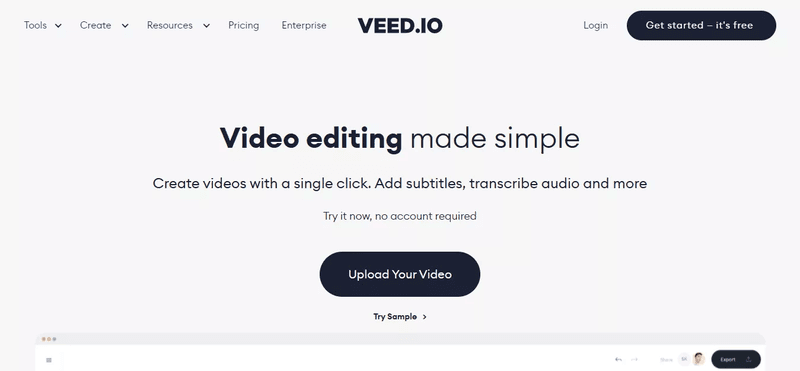 Pros
It features multiple options for you to edit and style your content to your liking.
You can split the screen or add your videos to the screen while recording. So this app is most suitable for professional video editors.
It allows you to cancel out noise, add subtitles, translations, and trim the video with just one click.
You can edit your content with the built-in templates, color palettes and organize your content in one place.
This cloud-based app allows you to share files within the team with ease.
Cons
VEED's wide range of features comes with a hefty price tag. So it can be heavy on your budget if you are a student or a new entrepreneur. Moreover, you cannot cancel out the watermark feature or share files between multiple teams if you are using the free version of this app.
Conclusion
Remember those online courses or tutorials that seemingly appear on your YouTube recommendations list? Almost every one of them is recorded using video messaging apps.
While Loom might be the first name that pops up when you think about video messaging, it doesn't have to be the only name. You can compare Loom alternatives that we've compiled for you and pick the one that suits your needs.
If you ask us, we'd recommend VideoSends, which offers one of the best screen recording services out there - right on your browser!
Sign up for free today to record and share videos with VideoSends instantly!